It happened again. I got "attacked" after a gathering of our church. It wasn't a physical attack. It was more like a verbal beat down, a giant verbal finger in my face.
It's not the first time it's happened. I suspect it won't be the last time.
You know the scenario. Following the elation of praising our God and King together, after preaching your heart out, a well-meaning member of the family approaches with a question or concern. It's not the best time, since you're shaking hands and greeting people at the door. But you try to give as much attention as possible, even though you know there's little you can or should say in such a hurried environment and on the heels of praising God. The let down of the exchange works a slump into your shoulders and you're trying to resist the tightening of your jaws and chest. You're the pastor. You have to be gentle, patient, interested. But you're struggling with the sudden turn from joyful worship to this sharp critique, complaint or accusing question.
So there I was. Again. Trying to think of how to make this interaction better than the last one a few months ago. Trying to remember how much I love this person and how much this person loves me so I won't respond too defensively or sharply. Trying not to feel like an opposing rugby team watching the New Zealand club dance a haka in your face.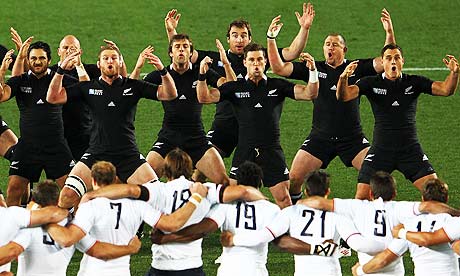 There I was failing. Again. Seems I always get the correct answer on the drive home or two Tuesdays later–like yesterday.
A while back a member questioned me about something they found problematic with the church. It wasn't the question or concern that troubled me. It wasn't so much the tone, though I thought that left something to be desired as well. But for days I couldn't identify what really troubled me.
Then it hit me: They didn't accept my answer. Now, that would be okay, too, if my answer were either weak or insufficient. But on this occasion my answer was essentially, "The elders have decided." Here's the rub: the member had a hunch about what my personal, individual opinion on the matter would be. They'd been listening to me at Bible study, in sermons or in casual conversation. They knew my preferences and would not accept "the elders have decided" as an answer. They wanted to know why I hadn't pushed a certain change–a good change.
The conversation was awkward–that kind of awkward that always arises when you're representing as fully as possible a group decision that you might have decided differently if it were only your decision to make. The flesh tempts you with ways to signal your disagreement, to gain the questioner's favor by breaking ranks with the rest of the elders. All it would take is a tilt of the head, a raised eyebrow with pursed lips, or a sentence trailing-off sentence fragment like, "Well, you know I.., but…." Then you could be the valiant hero rather than the duped schmuck who sided with the other know-nothing leaders. Ah, the sneakiness and persistence of fleshly pride.
By God's grace I stuck to the party line. There really are times to do that. And we both walked away dissatisfied with the exchange.
Tuesday morning I came to understand what bothered me. The member wanted me to fight for my own way over and against the elders. To them I had "lost." Though they meant no harm, they hadn't considered what it would mean for the senior pastor (or any individual elder) to always seek their own way. They had not considered how fighting for my own good desires against the wishes of the elders as a whole would lay the groundwork for my being unaccountable to the elders when my desires were not so good. They hadn't thought about the deceitfulness of a leader's heart, how we're always tempted to think we're right about things and that we see better than others. They missed how being "right" about good things can actually breed self-righteousness and incorrigible behavior when we're wrong. I thought of young King Rehoboam, taking the counsel of young men rather than the wisdom of the aged. He destroyed Israel in the process (2 Chron. 10).
It was good for me to "lose" the vote to my fellow elders. In fact, it wasn't a loss at all but a victory over my own ever-present pride, a victory for the leadership of my fellow elders, a victory over Satan's use of good things to tempt us into evil things, and a victory for the entire church in protection against a future tyrant who will not listen to or submit to anything or anyone but his own desires. That's what bothered me. This sheep hadn't seen these victories–nor had I seen them until Tuesday morning– and was unintentionally tempting me to the destruction of the leadership and potentially the church. All with an appeal to something good that I desired.
I wish I had had the presence of mind to look the member in the eye and kindly say something like, "You do realize you're asking me to disobey the elders, don't you?" I would hope a well-placed question like that would signal that I, too, am accountable to the elders as a whole. I would hope a question like that would signal to the member that they should not contemplate rebelling against spiritual leadership. Rather, we should submit our desires–especially our good desires–to the leading of the Lord through the leadership of the elders as a whole. Submission isn't submission until we're denying ourselves something we want, giving up one good alternative in favor of another good option we wouldn't choose for ourselves.
Ninety-nine percent of after church conversations are filled with laughter, loving concern and encouraging conversation. It's the one percent that tests our Christian character and our leadership skill. We're not only shepherding the sheep in those moments; we should also be tending our own hearts.